The Lawn At White River is Indianapolis's world-class Outdoor Concert Venue. It has been named one of the top 100 outdoor concert venues in the world by Pollstar magazine for 5 years running. With a 50,000+ capacity you can enjoy live performances from some of the best musicians and bands in the world in a scenic outdoor setting.
Click here for a listing of the upcoming concerts at The Lawn At White in Indianapolis.
Situated in downtown Indianapolis, all concerts at The Lawn are rain or shine. The box office is open on the day of show approximately one hour before the venue gates open for the concert, although this can vary by show.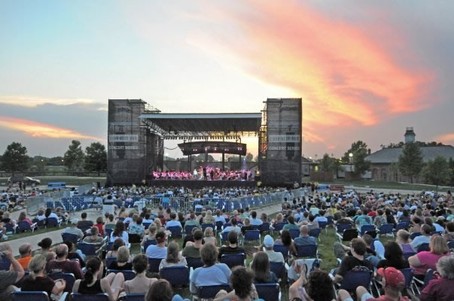 Please note the following when attending The Lawn At White River:
Professional cameras and recording equipment is prohibited, however, the following are generally allowed depending on the artists' preferences (Instamatic, disposable, 35mm, digital and camera phones).
Food and beverages are available at the venue. Each guest is allowed one sealed water bottle and sandwich sized zip-locked clear baggie with snacks.
Coolers are not permitted in the venue.
The venue provides free beach style chairs for ticket holders for most shows on a first come first serve basis.
Blankets are fine to bring with you, although this may vary from show to show.
Parking is available in the parks underground parking garage, surface south parking lot, Indianapolis Indian's parking lot, Indianapolis Zoo/White River Gardens parking lot and IUPUI parking lots and garages. The venue also has areas for parking bicycles.
Camping is not allowed in the park as White River State Park is an urban park.
The Lawn At River was founded in 2003 and has been offering award winning live music acts ever since. Past concerts in the last few years have included Florence + the Machine, An Evening with Bob Dylan and his Band, Cake, The Avett Brothers, Arcade Fire, The Black Keys, Ke$ha, LMFAO, Earth, Wind & Fire with The Indianpolis Symphony Orchestra, LL Cool J, Daughtry, The Moody Blues and many others.
You can find a listing and outline of the concerts and events showing at the The Lawn At White River here, as well as buy tickets (if available), find the address and contact details and look at the seating chart. You can also like and follow us on Facebook to get updates on the latest concerts, and follow us on Twitter for concert updates.
Part of White River State Park, America's only urban cultural state park, The Lawn At White River is one of a number of attractions in the area. The other attractions include; the Indiana State Museum and IMAX Theater, the Eiteljorg Museum of American Indian and Western Art, NCAA Headquarters and NCAA Hall of Champions, the Congressional Medal of Honor Memorial, Military Park, Indianapolis Zoo and White River Gardens, Victory Field the home of the Indianapolis Indians Baseball, and the Indiana Cross Country Arena @ White River State Park.